Home
Who We Are
Gordie Maikawa
BA CFP CLU CH.F.C.
Financial Advisor
Assante Capital Management Ltd.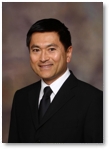 Founded in 1990, Maikawa Wealth Group is dedicated to creating long-term client relationships by providing current, comprehensive advice that allows clients to achieve their individual financial and estate planning goals.

Gordie Maikawa is a Certified Financial Planner Professional who takes pride in the work hard, play hard approach that allows him to balance his life among clients, family and friends.

Working hard means continually upgrading our professional knowledge and expertise. Since graduating from Wilfrid Laurier University, Gordie has obtained his Certified Financial Planner, Chartered Life Underwriter and Chartered Financial Consultant designations. These credentials, backed by 28 years of experience, enable Gordie to deliver the complete package. Maikawa Wealth Group offers individual stocks, bonds, flow-through shares, mutual funds through Assante Wealth Management's investment dealer Assante Capital Management Ltd., and life/disability insurance advice, strategy and implementation through Assante Estate and Insurance Services Inc. In addition to making sure that your financial plan and insurance needs are taken care of, he will work with your lawyer and/or accountant to ensure that your wills, powers of attorney and other estate planning essentials are also in place.

His personal passions range from road/mountain biking, running, swimming, snowboarding,skate skiing to painting and cooking. Gordie competed in his first triathlon, and two weeks later ran a personal best in his second marathon race in September, 2010. If given the choice, he would, without hesitation, choose the title of 'Worlds Most Enriched Man' over 'Worlds Richest Man'.

Maikawa Wealth Group's business philosophy is "Customer First". Whatever your personal financial and estate planning goals, we will help you achieve them.

---
130 Highland Road East, Unit 3 Kitchener, ON N2M 3V9
Call Us Toll Free 877-510-6209 x239 or 519-884-4048 x239